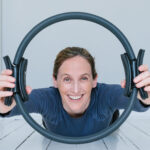 Empower Your Teenagers With This Online Pilates Course
As a proud parent, you want to give your teenage children the best start in life before transitioning into young adults. But, especially since the recent pandemic, it concerns you they might be developing unhealthy habits that they could carry with them into adulthood.
You may also worry about their mental development. For example, did you know that the average amount of screen time for teenagers is around seven hours a day? That figure doesn't even include screen time for homework purposes.
Getting teenagers motivated to exercise is undeniably a challenging mission to accomplish. 
The good news is there can be an easier way to achieve that goal, and that's through the power of Pilates.
Why Pilates for Teenagers?
Although the concept of Pilates was developed decades ago, and the foundations of the work based on child studies, most Pilates exercise is performed by adults, in an attempt to correct or improve poor postural habits and imbalances that are well established. Why not give teenagers the tools they need now, to help themselves feel better – both physically and mentally?
Pilates for teenagers has so many benefits – ranging from improving strength and flexibility, coordination, posture, and the reduction of stress and anxiety.
Why Choose Next Gen Pilates?
As a mum of three, I know first hand the pains and concerns parents have about their kids. My interest in Pilates started over 20 years ago when I first had Pilates sessions to help with chronic lower back pain.
In 2011 I pursued my dream of teaching Pilates and now have a fully-equipped studio based in Bristol. I've also created online courses specifically for teenagers as I believe they should have the best physical and mental start in life as they become young adults.

Check out my online testimonials from previous clients to learn more about why your teenagers will benefit from my online courses.
6 Core Principles of Next Gen Pilates
As an experienced and qualified Pilates teacher, I empower my students with six core principles:
Breath
Breathing is undeniably an essential aspect of life. But, it can also be an effective stress management tool. I teach teenagers how to control their breath and identify when it is short and shallow or long and expansive.
Control
The second core principle of Next Gen Pilates involves teaching teenagers how to promote a proper mind and body connection with safe and complete muscle control.
Centering
Thirdly, the connection between the mind and body is centering. My methods help teenagers focus on strengthening their center to support their spine, internal organs, and posture.
Concentration
Next Gen Pilates teaches teenagers about the importance of mindful, coordinated movements to improve concentration and diminish stress.
Precision
Another of my core principles at Next Gen Pilates involves educating teens about instigating correct techniques rather than aiming for perfection.
Flow
Lastly, I teach my teenage students how to foster flow: the ease of movement in all Pilates exercises.
Future proofing your body is essential, but essentially, it
needs to be fun.